It seems like teens and even tweens today can text using two thumbs faster than most adults can type using 10 fingers. That's not research, by the way, but a MomTini observation. They're fast; they've got their own lingo; and for parents who grew up with cassette tape players in their cars (!), the technology can be overwhelming at times.
A recent study, "Sex and Tech," by The National Campaign to Prevent Teen and Unplanned Pregnancy and CosmoGirl, reported that 21% of teen girls and 18% of teen boys have sent or posted nude or semi-nude images of themselves.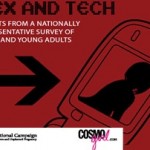 There are some great tips, for both parents AND teens in their "Five things to think about before pressing 'send' ." I'll highlight some of my favorite tips for parents and teens here:
Tips for Parents:
–> Talk to your kids openly and honestly about what they're doing in cyberspace.
–> Know their address book – know who they're talking to.
–> Set limits and expectations on electronic communication.
–>Tips for Teens and for Parents to Discuss with Teens:
–> Don't assume anything you send will remain private. The study found that 40% of teens and young adults "say they have had a sexually suggestive message meant to be private shown to them; and 20% say they shared such a "private" message with others.
–> There is no changing your mind in cyberspace – anything you post will never truly go away. Editor's note – I like to refer to this as an "electronic fingerprint" — it's indelible, it's yours, and it's there for good.
— > Don't give in to the pressure to do something that makes you uncomfortable, even in cyberspace. Editor's Note: Peer pressure is intense, especially online where it seems more anonymous, but is anything BUT.
— > Consider the recipient's reaction. They say, "It's easier to be more provocative or outgoing online, but whatever you write, post or send, does contribute to the real-life impression you're making."
Great tips – hope they're helpful! I'll be reporting more on this topic – and welcome your comments and feedback! Add a comment to this post with any ideas you have to keep kids safe on cell phones.