What a great morning with Holly Morris (as a smashing pumpkin!) from FOX DC and the fun team at kiddie party central, Andy's Parties.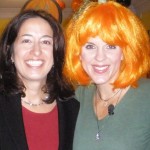 Amy with FOX DC's Holly Morris
First segment: Punny Halloween Costumes
Second Segment – Our Very Own Secret Service and Adorable Little Goblins
So…have you entered your best safety & costume tips at our reader-giveaway? Click here, and scroll down to enter to win – just "Leave a Comment," and you could win a Boost Mobile phone or a Wow! Wow! Wubzy Goes Boo DVD! Just a few days left – enter your ideas today!
Enjoy, and have a safe Halloween!