I was looking for a spirited visual for this year's Halloween post, and without going to the dogs, here it is…
Here are some MomTini "treats" to get your little goblins ready for Halloween. I want to cover several subjects with quick tips and helpful links on each.
COSTUMES – QUICK AND EASY:
As adults, if we were sprinting from house to house (in the dark nonetheless), we wouldn't be thinking of putting on our party best. But for kids, this is the ultimate show and tell all year! It doesn't need to cost an arm and a leg – here are some quick tips on creative ideas that you can pull together without an art degreeat home:
1. Recycle last year's costume with a creative twist, a new hat or face painting.
2. Consider "hand me down" costumes that older siblings wore.
3. Barter with a friend or neighbor. Get a bunch of moms together and trade costumes.
4. Simplify – A cute mask which is the most visible part of the costume anyhow is a great costume.
5. Check out seasonal kiosks or Halloween stores. One, Spirit Halloween, predicts a spike in the following types of costumes: vampires (especially Twilight stars), Transformers, famous (Michael Jackson) and infamous icons (Bernie Madoff).
6. Online gems – there are some great do-it-yourself ideas online – here are some of my faves:
Real Simple – I'm inspired by their adorable play on words such as Pig in a Blanket, Fallen Angel, Raining Cats & Dogs (pictured above) and more!
About.com – Great "recipes" to become an Artist or Babe Magnet
SAFETY FIRST:
Since Halloween falls on a Saturday this year, kids are likely to be out later in the dark, and drinking and driving with kids sprinting around neighborhoods is unfortunately a concern. Here are some safety tips:
• Consider loaning your child a cell phone if he/she doesn't own one to stay in touch. Note – we're giving one away this year – see the end of this post for details!
• Review & reinforce safety rules with your children. Most important, be cautious when crossing the street or driveways. Ask them to wait to eat treats until they get home to avoid choking hazards and to give you a chance to go through the bag first to pull out any potential hazards.
• Get your flashlights in order. Pull them out, and replace batteries.
• Glow necklaces are a great way to add some fun to your kids' costumes and give you a way to quickly spot them as you're following along.
• Make sure your driveway/walkways are safe and well lit for lots of foot traffic. Replace outdoor lights if necessary.
• I.D. young kids. I love this idea – Safety Tat produces temporary safety tattoos to, as they say, "determine which witch is which." SafetyTat founder, Michele Welsh, mother of three, recommends you write your cell phone number on the tattoo and apply to your child's arm or hand. You can customize the tattoos and store for future trips to amusement parks or school field trips.
SafetyTat has some great Halloween safety tips on their website.
I'll share a few here:
• Only visit well-lit houses and remain outside rather than entering the house.
• If possible, wear clothing that is bright, reflective and flame retardant. [Editor's note: They also recommend you apply reflective tape to the Halloween candy bag.]
• Don't wear masks that obstruct your vision. Try to use face paint.
—> For more safety tips, there's a great list on the CDC website.
They recommend that kids avoid trick-or-treating alone. Walk in groups or with a trusted adult.
FOOD, GLORIOUS…CANDY!
Healthy eating and Halloween may seem like an oxymoron, but here are some good tips from New York Dr. Margaret Lewin, Medical Director of Cinergy Health
As an alternative to candy, she recommends you buy healthy mini-packs of
o Raisins or dried fruit
o Sugar-free hot chocolate mix
o Sugar-free gum
For handouts, she suggests you consider non-edible treats such as
o Stick-on temporary tattoos
o Mini bottles of bubble bath or blow bubbles
o Sidewalk chalk
MORE FOOD FUN
Disney FamilyFun magazine has lots of Halloween costume, craft, and edible ideas.
I'll share a few of my favorites here – with more on Friday: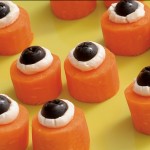 Edible Eyeballs
Set out a platter of these creepy peepers. Slice carrots into 1-inch-thick chunks, top each with a blob of cream cheese and one half of a pitted black olive.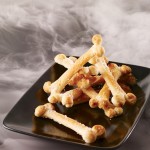 Salty Bones
It wouldn't be Halloween without a skeleton—in this case, one that's been disassembled into a pile of tasty bones to pick. Unroll a tube of refrigerated bread sticks (we used an 11-ounce tube to make 12 bones), and separate the rectangular pieces. One by one, stretch the dough to lengthen it a bit and use kitchen scissors or a knife to cut a 1-inch slit in the center of each end. Shape the resulting four flaps of dough into knobs that look like the ends of a bone. Place the "bones" on an ungreased baking sheet, spacing them a few inches apart, and sprinkle on a little coarse salt. Bake the bones at 375° until they are light golden brown, about 12 minutes.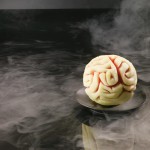 Melon Brain
Created from a small, round seedless watermelon, this spooky cerebral creation is bound to turn heads. Use a vegetable peeler to remove the entire green rind, exposing the inner white rind. Slice off the bottom of the melon to make a flat base that will keep it from rolling. With a toothpick, outline squiggly furrows that resemble the folded surface of a brain. Finally, carve narrow channels along the tracings with a sharp paring knife (a parent's job) to expose the pink fruit beneath the rind.
And, a drink to go along with that! Compliments of HINT Essence Water, here are some Halloween-themed cocktails: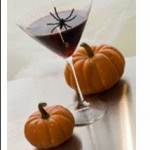 Black Cat Martini
1 ½ oz. Blackberry HINT Essence Water
2 oz. Blavod Black Vodka
½ oz. Chambord
2 Blackberries, garnish
Wicked Witch's Watermelon
1 ½ Watermelon HINT Essence Water
2 oz. Watermelon Vodka
1 Splash Lime Juice
1 Watermelon Slice, garnish
And finally, here are some MOMTINI TREATS FOR OUR READERS:
We're in the process of revamping (excuse the vampire pun!) our websites – look for some fabulous enhancements in the next few months! One feature will be reader give-aways, and we're happy to be hosting our first give-aways now!
WIN A PHONE
Boost Mobile is providing a FREE Motorola Clutch i465 ($220 value). Simply "Leave a comment" at the top of this post with your favorite Halloween safety tip for our readers. The best tip will win the phone! U.S. residents only. Contest ends 11/3/09.

Boost Mobile nationwide, no contract phones start as low as $59.99 (a one-time cost) and have flexible plans by the minute, day, or month, which lets Mom and Dad be in control of the bill. There are no credit checks, no contracts, and can be purchased in thousands of locations across the U.S.
WOW! WOW! WIN A DVD
To celebrate Wow! Wow! Wubbzy!: Wubbzy Goes Boo!, we're having a costume idea contest! Simple "Leave a comment" at the top of this post with your most creative costume ideas (that can be EASILY home made!), and you could win the all-new 70 minute Halloween DVD . U.S. residents only. Contest ends 11/3/09.
Wubbzy Goes Boo! includes singing, dancing, trick or treating and kickity-kick ball, plus plenty of positive values like creativity, patience and responsibility.
FREE YOGURT:
We posted this last year, and I think it bears repeating! YoCrunch will send you FREE yogurt coupons when you mail in candy wrappers. Here's the scoop:
For up to two weeks following Halloween, parents can send any candy wrappers which their kids have earned trick or treating (limit one submission per household) to YoCrunch and be rewarded with a coupon good for any YoCrunch product. Mail your wrapper to:
Shaina Zalma
YoCrunch
9507 Santa Monica Blvd., Suite 300
Beverly Hills, CA 90210
I hope you enjoyed this post as much as I did writing it! Feel free to share it with your Mommy friends, and Happy Halloween!