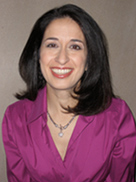 Amy Kossoff Smith, is a
nationally recognized source on parenting
and has appeared on The Today Show, FOX, NBC, CBS, and ABC News. A
national wire columnist
, Amy reports on parenting topics and is published in newspapers nationwide and
loves to speak to parenting groups
.
Personally, Amy is MS'97 (Mom Since 1997), and she and her husband, Mitch, manage the busy lives of three active boys. She drives a heavily populated minivan and has been active in the school and community.

Professionally, Smith has an extensive background in print journalism and public relations. An entrepreneur at heart, Smith founded Write Ideas, Inc., a public relations firm in 1992. Her expertise in serving Fortune 500 companies within the retail sector has attracted such retail giants as Blockbuster, 7-Eleven, Cold Stone Creamery, Marriott and more.
She created and implemented a multitude of kid-friendly, innovative publicity programs and campaigns. For example, she designed a project with The Children's Miracle Network, where her tape collection drive at local Blockbuster stores resulted in a donation of more than 2,300 videos and $220,000 in press and promotions.

   
Smith's firm has worked on many campaigns that are family-oriented including the following:
National KidsDay
7-Eleven's Operation Chill – Police "ticket" kids caught doing good deeds, with Slurpee coupons
Glaceau's Vitamin School to promote nutritious lunch options for local high school students.
Blockbuster's Kids and Family Summer Campaign
.

Smith graduated from Northwestern University's Medill School of Journalism. Her newspaper article on offbeat tactics used on college entrance applications received the first place nationwide award in the "Pulitzers of the college market," the William Randolph Hearst Foundation Writing Contest. 

Disclaimer: The content presented in this website is intended to provide ideas and resources from a reporter's perspective. Expert sources have been consulted in certain areas (medical, legal, i.e.), but readers are encouraged to seek professional assistance whenever needed.

Member
Testimonials
Amy's ability to "do it all" and still be approachable is refreshing in a time where women are expected to juggle business, family & friends, with a smile and a click of their Blackberry. Amy truly understands the work/life debate, complete with its joys and pitfalls.
Julie Dennehy
PR Executive
Mom since 1998 (MS'98)
I have known Amy for 30 years, and my respect and appreciation grow each year as life just keeps getting more complicated, and she doesn't miss a beat. Amy does not merely "get it done" but approaches each task with passion and detail to the point where you cannot help but ask the question, "How does she do it?" She inspired the phrase "Super Mom." I am her biggest fan.
Lorraine Adler Altschuler
Director, Business Technology
Mom since 1999 (MS'99)
Amy's attention to detail is second to none. She is candid and direct, and you never need to guess where she stands on an issue. She is sensitive, thoughtful and kind. Anyone interested in aligning themselves with a successful businesswoman, a highly respected public relations professional and a kind, compassionate, caring individual, need not look any further than Amy Smith.
Robert "Bob" Schiers
PR Executive
Dad since 1980 (DS'80)